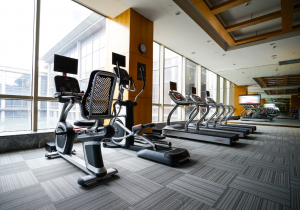 The health and fitness industries are in the midst of a major boom. Consumers are taking their health more seriously than ever before, and for many, the thought of being without gym access while on vacation or traveling for business is unacceptable. In fact, in a recent poll, 48 percent of business travelers ranked a hotel's gym as "very important" in their lodging decisions.
For hotel owners, meeting consumer expectations for fitness centers goes beyond just putting a few machines in a room in the basement. Their expectations include things like:
Space to Warm Up
It's easy to think that the best way to set up your fitness center is to fill the room with as many machines as possible. While having the right fitness equipment is important, guests need to have space to get ready for workout, no matter the intensity level. Section off a corner of the room with padded floor and some mirrors, to give them this space.
Variety of Fitness Activities
When hotels first started to add gyms to their properties, the trend was to focus on cardio machines for the guests. Over the last several decades, this trend has proven increasingly ineffective at meeting guest expectations. Modern guests want to see a balance of cardio and weight training activities, as well as space to do free movement exercises, like yoga. Companies like Matrix Fitness provide access to state of the art machines and equipment of all stripes, so you don't have to worry about multiple vendors.
Up to Date Machines
If a guests looks at your website and sees pictures of treadmills that are 20 years old, they will not hesitate to look for a different hotel. Your guests want to know that you take your fitness center seriously, and that you have made a real investment in that part of your business.
State of the art machines from vendors like Core Health and Fitness offer a variety of benefits for you and your guests.
More compact designs enable you to provide more equipment in the same amount of space
Capitalize on the latest fitness trends and features
Guests are confident that the equipment has been cared for and is safe to use
Newer machines are less likely to breakdown or cause harm to a guest, limiting your liability
Cozy Space
Often overlooked in the discussion about hotel gym design is the need for a cozy space to workout. So many hotel owners focus on the machines, location, and spacing, but pay little attention to the lights and the paint.
Your guests want a fitness center that makes them feel welcome. This helps to give them the motivation they need to go and work out, and increases their satisfaction when they complete a workout. Bright colors go a long way to transforming your fitness center from a room that feels like an afterthought to one that is a major selling point. Invest in some high quality overhead lights and make certain that you change the bulbs as soon as they go out.
In addition, a clean room is a cozy room. You can facilitate cleanliness in your fitness center by providing large, frequently emptied, bins for towel storage, and by having your staff clean and sanitize the machines on a regular basis.
In the right circumstances, a hotel gym is a point of differentiation that can make your property stand out in the market. In order to do this, you must have the right attitude, invest in the right equipment, and make your fitness center a focal point of your property.
For more information on how fitness centers can help hotels, contact one of Fit Supply's many fitness professionals in Texas.