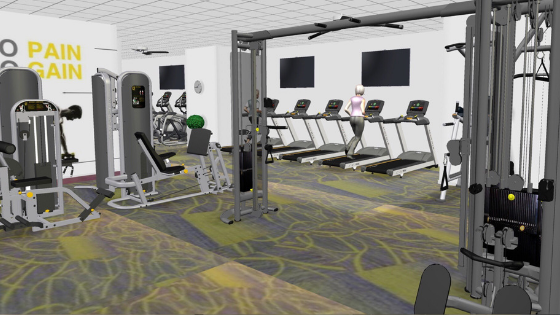 While fitness enthusiast and trainers understand the importance of having the proper combination of cardiovascular and strength-training equipment to meet the needs of their customers, many fail to realize how important the layout and design of the facility can be to its success. When designing your facility, it is important to ensure its safe and functional, to limit any liability an ultimately provide facility users better exercises experiences.
Fit Supply provides fitness facility consulting related to the right layout and design for your facility and how to position the equipment. When planning for a new fitness center or upgrading an existing one, a layout service helps to visualize the possible ideas and ensure the accessibility, functionality, and comfort of the space in advance.
Working closely with your staff and architectural designers is our expertise. Our team of experienced experts will help you put your visualized plan into reality. Our layout specialist utilizes state-of-the-art tools and programs to draw floor plans and provide rich images of your ideal space.
Fit Supply fitness layout team together with fitness representatives work hand in hand to provide you with realistic 2D and 3D layouts that include virtual tours of your facility. Our highly trained sales and layout staff will be with you in every step of the design process while being guided by an existing blueprint or creating a new one as per the requirements of your center.
With a wealth of experience, we are able to assign different experts to our team to provide individually tailored layout and designs guidance to create an exceptional facility design from start to finish.
Our first-class design and consulting services are FREE, and we are eager to help you get started on your project. Leave the planning to our experts and we will have your facility up and running in no time.
Layout
Maximizing the use of any fitness space requires considering activity flow, equipment selection, power needs, weight tolerance and a myriad of other factors, all of which make up the layout. Discount Online Fitness' design experts know what works and how to design your space to encourage its use and enhance its value.
Flooring
Flooring is often overlooked but is a vital piece of fitness equipment. So many people engage in functional fitness programs that having an athletic floor underneath you really makes a difference. For fitness facilities, it's about acoustics, safety, aesthetics and durability too. Ask us about the options that are right for your facility.
Customization
Beyond the choices you have for equipment as well as the location and the design of the space, there are often-underutilized ways to create a compelling and memorable experience for fitness facility end-users. Why not put your signature stamp on it? From your logo on the floor or on your equipment, to custom color choices for equipment, to the graphics on the walls, we can help you brand your facility to be uniquely yours.
Thank you for your submission.