Now that you have your gym equipment in place and customers using the equipment, it is important to remember that upkeep should be part of your daily operation. There are maintenance, service, and repairs to keep in mind as far as your equipment is concerned. Keeping your assets in the best condition possible should be a top priority for your gym.
Preventative Maintenance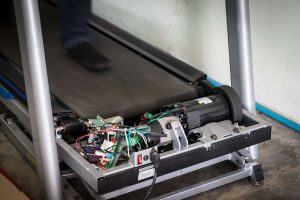 There are both daily and intermittent maintenance schedules for your gym equipment. Each piece of equipment will come with suggested cleaning and maintenance schedules. You should refer to these instructions from the manufacturer to get an idea of what you should be doing.
Many busy gyms will put out bottles of antiseptic for users to clean off equipment with after they are finished. No one likes to sit on a sweat covered seat or put their hands onto sticky handles. It is always good to periodically clean your equipment even if users are asked to do it themselves.
Preventative maintenance is things like checking for loose treadmill belts, broken items, or other possible malfunctions. Depending on the equipment the manufacturer may also suggest periodic oiling or other steps to be sure your equipment is in tip-top shape.
Service
Having gym equipment serviced on a regular basis is the same idea as having the furnace (or central AC unit) in your home checked/cleaned annually for best performance. Service technicians can find and stop problems before they happen, saving you money in the long run.
Depending on the size or specialties of your fitness center you may choose to service all of the equipment at the same time or do it by group. Manufacturers and third-party wholesalers offer equipment servicing to customers at reduced rates, often in combination with repair services.
Repairs
Repairs have been listed last because if you are taking the necessary steps to keep your gym equipment in great shape, this should be something that you do not encounter often. Usually, gym owners that skip the full-service packages find themselves calling maintenance people for emergency repairs.
Calling a third-party company for emergency repairs can be costly, and the damaged equipment will no longer be able to be used in your gym until the repair contractor repairs it. Paying for a full-service package can help you to avoid this pitfall.
Support and Service
Don't roll the dice when it comes to the vitality of your business. Fit Supply offers a range of service packages for fitness centers of all types and sizes. Fit Supply services a multitude of name brand equipment and uses only the best-qualified technicians to maintain your gym.
Click here today to find out more about our aftersales service packages. We are sure that you will find something that fits within your budget and will save you time, money, and frustration in the long run.