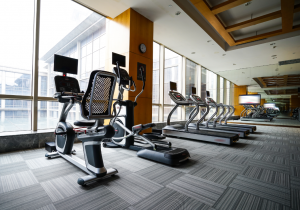 For tenants, a fitness center isn't just a convenience – it's key to a lifestyle.
As the public health crisis approaches its endgame, tenants have spent months looking for safe and secure ways to continue their workouts. Many of them have cancelled their gym memberships: About 59% of Americans surveyed have no plans to continue going to the gym.
But that doesn't mean they've given up on fitness. Not by a long shot.
62% of Americans still report being concerned about their overall health even though many (51%) say they are exercising less than they did before the pandemic. There is strong momentum behind at-home fitness and many people report being satisfied with it, but multifamily homes can offer even better options.
Despite the Pandemic, Fitness Centers Remain the Most Sought-After Apartment Perk
According to the National Apartment Association, the fitness center is the #1 amenity people are looking for when they compare apartments. Fitness centers were ranked higher than 42 other unique building amenities that have become more common during the hustle and bustle of the "amenity wars."
A whopping 46% of respondents said a fitness center with classes was worth paying a premium for.
Fitness centers were chosen over these other desirable amenities by a wide margin:
Business centers with features such as printing and Wi-Fi
Clubhouses with entertainment amenities and games
Common areas tenants use to meet and socialize
Pet-friendly features such as dog runs and dog parks
Superior landscaping in community common areas
Swimming pools and hot tubs of all kinds and sizes
While there's no doubt some tenants are in the market just for one of these other features, the vast majority see both huge utility and a sense of luxury in convenient access to their own fitness center. Nine out of ten new buildings have a fitness center, and 28% of renters in a 2020 survey said not having one was a deal-breaker.
It's Time for Apartments to Entice Quality Renters with New Fitness Center Options
In the 1970s, only about 29% of apartments had a gym or fitness center.
Now it's 92%.
A good fitness center can match the features of the neighborhood gym in virtually all ways while providing the one thing no local business can: Unparalleled convenience.
Whether they're out to lose weight as a New Year's resolution or continuing on a life-long fitness journey, most people realize that the time and energy they spend getting started is often what keeps them from working out.
The easier it is to get to the fitness center and start exercising, the more likely they are to succeed.
Plus, multifamily residences can offer community. After a year characterized by isolation, more people are awakening to a desire to get to know their neighbors. The social aspect is crucial to fitness success, with those who exercise in groups working out longer and more frequently than those who go it alone.
All in all, those who exercise in social settings are more likely to complete fitness programs and to reach their goals. Apartments can leverage the talents and skills of their tenants, making it easier for them to organize fitness classes and events that can raise motivation – presuming they make the right fitness equipment available.
A modest investment in weights and cardio or strength training equipment can make an exponential difference in your tenants' overall wellness. Just as importantly, it transforms their perception of your community: They see quality worth taking pride in. That makes them more likely to view their apartment as "home," not just a temporary stop.
To find out more, contact us.