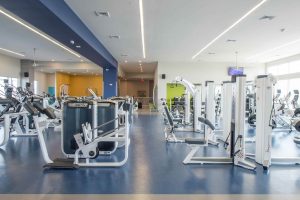 A well-designed fitness facility can mean the difference between a regimen that keeps gym-goers coming back and one that fizzles out after a few visits. The goal is to create a space that is both functional and inviting, with all of the necessary equipment and amenities to support an effective workout.
To that end, here are a few important design considerations for any fitness facility:
Layout and Flow:
The layout of a fitness facility should be designed with the flow of traffic in mind. That means placing high-traffic areas, like cardio machines and weight rooms, in easily accessible locations. For example, it might not make sense to put the weight room in the far corner of the gym if most people are coming in to use the treadmills.
Lighting and ventilation are also important factors to consider when mapping out the layout of a fitness facility. Adequate lighting ensures that gym-goers can see what they're doing, while proper ventilation helps to keep the air fresh and free of any unpleasant odors.
Equipment Selection:
Of course, no fitness facility would be complete without a selection of quality workout equipment. Cardio machines, free weights, and strength-training machines should all be chosen based on their durability and performance. In addition, consideration should be given to the height and width of machines to ensure that they accommodate users of all sizes.
Amenities and Extras:
Last but not least, don't forget about the little things that can make working out more enjoyable for your patrons. Comfortable locker rooms with showers, lockers, and plush towels are always appreciated. Other helpful amenities might include vending machines stocked with healthy snacks or a coffee bar for post-workout refueling.
By following these simple tips, you can design a fitness center that meets the needs of even the most discerning gym-goer. By investing in high-quality equipment and thoughtfully planned layouts, you can create a space that optimizes workouts and encourages customers to keep coming back for more.  Contact your local Fit Supply representative for more information.