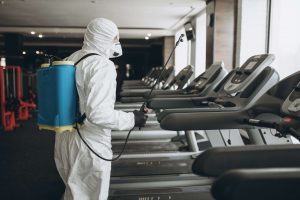 President Donald Trump recently revealed his plans to re-open up the country after the month-long lockdown. Among the institutions allowed to re-open are movie theaters, restaurants, places of worship, and gyms as long as they adhered to the restrictive social distancing protocols.
The decision to re-open gyms was pretty shocking for many citizens given that fitness facilities present a potential risk for increasing the spread of the contagious virus. Experts speculate that the inclusion of the facilities was a last-minute push following conversations with an influential network of relationships.
Trump's guidelines on re-opening the institutions would be executed in three phases. During the first phase, daycare facilities and schools would remain closed, but facilities like movie theaters
could re-open as long they follow the social distancing guidelines. Also, many businesses are encouraged to work remotely, and in case of meetings, they should not be of more than ten people.
States can only proceed to the second phase if there is a decline in positive cases after 14 days. Employers are encouraged to provide special accommodation to the vulnerable population, including the elderly, people with underlying conditions like asthma, lung disease, or obesity.
Schools and youth activities are also allowed to resume, and large venues like houses of worship and sporting arenas can operate with moderate physical distancing. The third phase of the plan is allowed if the states report declining cases after another 14 days.
During this phase, business are allowed to resume operations without restricting worksites. Additionally, large venues can open while following limited physical distancing guidelines, and bars can increase standing room spaces. Since the re-opening guidelines for each facility are pretty specific, we look at the regulations for fitness centers:
Checking the Temperature
All staff and gym members are required to check their temperature before entering the club. People with elevated temperature (over 37.5 degrees Celsius) are required to rest for five minutes. Those found with an elevated temperature after resting will not be permitted to continue registration.
Wearing Masks
The club should provide masks to its members and staff. As such, you should determine the club's ability to implement the guideline before registration.
Social Distancing
Both members and staff should adhere to the strict social distancing guidelines of six feet between individuals. Also, instructors, personal trainers and members are restricted from assisting members during workouts.
Self-quarantine
Employees and members who have been travelling should self-quarantine for 14 days before visiting the gym. Also, employees who are on leave need to self-quarantine after returning from the trip. Members who are already feeling unwell or exhibiting symptoms should avoid visiting the gym until they have recovered. The same rule applies for employees, but they are required to present a medical clearance form before resuming work at the gym.
Additional Measures
Members should carry their water bottles because gyms are required to suspend the use of drinking fountains
Ensure the club is thoroughly disinfected including the gym equipment
Set up hand-sanitizing stations at the entrance, changing room, etc
Gym classes should be down-sized to enable members to follow the social-distancing rules
Gyms should ensure the guidelines are visible to its members and staff. It would help if they prepared print outs to stick at the elevator, gym, entrance, reception, and other highly visible spaces.