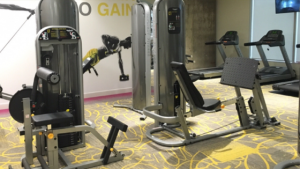 Design and Fitness: An Essential Guide to Designing a Smart Home Gym
Having a home gym allows you to keep fit at home. Partnering with a professional gym designer guarantees a functional and aesthetic at-home workout space.
Many people can hardly afford the time to go to a gym studio, especially when they have to commute to work and deal with family, social, and professional obligations. Additionally, the outbreak of the coronavirus pandemic forced many Americans to set up home gyms. Those who wanted a group experience relied on virtual sessions through live streaming. Still, they required a gym setup.
According to a fitness surveillance report published on Businesswire, 87% of Americans said they would continue working out at home even after the coronavirus tidal wave. Additionally, 90% of the respondents said their home workout routine proved to be as effective as pumping and burning calories in a gym studio.
But how do you make the most of the available space at home to create an aesthetic yet functional at-home workout setting? Here is a guide to help you create a smart home gym design for effective workout sessions.
Location and Space Consideration
Your first priority when designing a home-gym design should be the location. Which space of the home will you dedicate to the gym? Having a designated area hedges your bet that you will utilize the space regularly. If you have a spare bedroom or guestroom, you can transform it into a gym. If space is limited, you can use the extra square-footage on the balconies, decks, or patios; get creative, and set up a workout area.
Indoor Gym – Designing an indoor gym allows you to add a personal character to it. You can choose various locations within your home and customize it, depending on your fitness and wellness goals. For instance, the basement, an extra room, or the attic can be an excellent fitness area. Ensure you have rubber flooring for increased attraction, overhead lighting, and functional mirrors. Alternatively, you can combine the home office and gym. However, it would be best to avoid clutter by storing each piece of equipment in its designated area for a neat setting.
Outdoor Gym – Having an outdoor gym allows you to take advantage of natural light and an unlimited fresh air supply. The only challenge comes when designing your dream outdoor gym. To achieve an inviting and functional space, try adding an outhouse with a transitional area. Sliding floor-to-ceiling windows will allow maximum light penetration and integrate the indoor elements with the natural environment.
Layout Design
Setting up a home gym requires proper evaluation of the available space and designing a layout that offers functionality. First, you need to examine your individual needs and fitness goals carefully. With that in mind, you can create the best design that provides a high-level fitness experience. It would help if you had a setup that allows easy movement between cardio, weight-lifting, and recovery stations. Such a smart plan prevents equipment damage and alleviates safety risks.
Consider High-Traction Flooring
Dropping and slamming of weights and other gym equipment can damage the floor. You need to add a protective layer on the floor to prevent that. Rubber mats offer an excellent gym-flooring option as they are affordable and have a straightforward installation process. Moreover, the rubber provides a soft cushioning to the bones during different exercise routines and reduces noise. Most importantly, rubber has high traction, maintaining a stable grip between the feet and the floor when moving around the gym.
Gym Décor
The style and décor you choose determine the overall atmosphere of your home gym. The color and interior elements can greatly impact energy levels. For a relaxed setting, add green plants and a warm color palette. Green brings a natural aspect to the gym and amps up the energy. On the other hand, you can maintain your focus in the gym by choosing subtler colors, such as white or grey.
Adding large functional mirrors creates an optical illusion of a larger, open space. Mirrors also help to distribute light throughout the room. Besides beautifying the gym, mirrors enable you to check your form as you exercise. You feel motivated when you see progress in your physique.