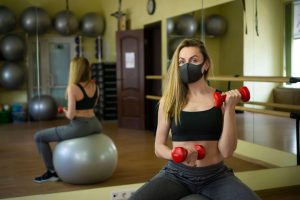 Exercise has become more critical than ever during the COVID-19 pandemic. If you run a fitness center, you can still promote health and fitness by observing local, state, and federal guidelines. Fitness centers in hotels, apartment complexes, and corporate facilities were among the closed amenities during the pandemic's first wave. However, the centers have since been allowed to reopen under strict guidelines. It is essential to implement safety measures in your fitness center to protect your clients and employees, which include:
1. Enforce Social Distancing
Social distancing is among the most effective way of discouraging virus transmission. You can use visual markers like walkways and signage to encourage clients to stay 6 ft apart when moving throughout the center. Directional pathways with visible signage will also help you manage visitor traffic.
Exercise areas should also be spaced out, and you may need to rearrange equipment like treadmills and bikes. In cases where equipment spacing is not possible, you should block off some equipment to maintain distancing. You can also use barriers that are high enough to block respiration from a customer using the equipment. Clean and sanitize the barriers regularly.
Don't forget to encourage social distancing between your employees as well. It may be necessary to reconfigure common spaces like break rooms, lobbies, and waiting zones.
2. Set Capacity Limits
In most places, gyms have been allowed to reopen under strict caps on operating capacity. You can check local and state guidelines for the limitations that apply to your business. When calculating occupancy counts, you should include customers, employees, and other workers.
You can install online reservation systems to control the number of people in your facility at any given time. Encourage your clients to sign up for classes in advance to make planning easier. It also helps to use contactless payment methods to reduce transmission risk. Additionally, you should encourage outdoor activities and virtual classes where possible.
3. Improve Ventilation
Improving your center's ventilation is a good way of boosting the circulation of fresh air. To start, increase the filter efficiency of the facility's HVAC units to the maximum function level, and keep humidity levels at 40-60%.
You can place fans at various points in the center to boost the usefulness of open windows. Keep in mind that standing fans should not be positioned in a way that directs air from one person to another. If there is any poorly-ventilated area, you can use HEPA filtration units to filter contaminants from the air.
4. Encourage Hygiene
Handwashing and sanitizing are among the most effective actions against COVID-19 transmission. You should make it easy for employees and visitors to wash their hands by providing running water and soap. Distribute alcohol-based sanitizers and disposable wipes across the fitness center for patrons to disinfect equipment and their hands.
Employees should disinfect equipment in your facility after every use. You can place disposable wipes near large and small equipment for users to perform additional sanitizing. Close off any equipment that cannot be disinfected after each use. You may need to encourage patrons to utilize one piece of hardware at a time.
In Conclusion
Fitness centers must operate cautiously during the COVID-19 pandemic to reduce infection risks. In addition to the above guidelines, you should keep your staff informed about any updates and developments. It also helps to post visible signage throughout your facility to remind patrons of safety and hygiene protocols.