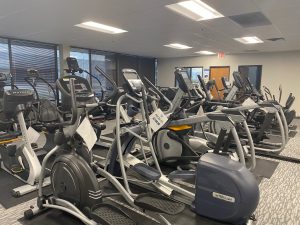 Where to get Fitness Equipment
As the Corona Virus spreads, quarantine measures ramp up. Public gyms, parks, and recreational centers remain closed. Home exercise systems are rapidly becoming hot commodities. There is growing interest from clients who are looking to stay fit during the outbreak.
As gyms in the USA close due to concerns of COVID-19, clients are turning to home work-out systems. At Fit Supply, business is booming. Recently, the fitness store sold a lot of their floor items. Before the sale, Fit Supply put out one of the biggest orders in their history.
"It isn't like toilet paper where everyone is hoarding, but the merchandise is flying out of shelves," said Ryan, General Manager. "Americans are stressed out now more than ever. People need a release, and we provide it."
Dumbbells are his hottest products. Dumbbells, piled up in boxes, are selling so fast; there is no time to shelve them.
"For years, I have worked here. This is Black Friday Sale ten times," said the General Manager.
The company had to adjust its business model. Phone orders have replaced the physical stream of customers into the store. The store encourages social distancing and takes client orders through the phone. The managers of this store say that they work round the clock to stay stocked. As things stand with the outbreak, this task is harder than ever.
The store hopes that it can provide relief to those who need it.
"I hate the current circumstances, but we are trying to help clients outs," said Ryan.  We will not sell anything we can't get or don't have in stock.
The store assured its clients that it would remain open as long as they can. They have updated their day to day routines to protect their employees and clients. The store's staff have to disinfect and sanitize equipment after handling them. The store is also monitoring the health of its staff.
There is a Demand: Where is the Supply?
From the report above, you can appreciate that there is a growing demand for home-gym equipment. So, where is the supply?
Fit Supply is a commercial fitness systems dealer. We specialize in pre-owned and new fitness equipment. We offer a broad line of products to meet all your fitness needs. New, refurbished, or remanufactured, we've got you covered. Call 877-344-3368 to discuss your options.
Fit Supply, standing by you in these trying times.