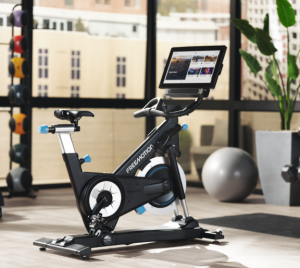 Regular exercise is important in maintaining your youthfulness and keeping you healthy. Exercise paired with the right equipment can help you achieve the results you're expecting much faster. Exercise equipment comes in handy when strength training to shape up and tone your body. For men, they can achieve a masculine look while ladies get a nicely shaped body. Exercise also helps to improve your flexibility and balance.
Unlike in the past, manufacturers are continually innovating new fitness equipment that are gentle, easy to use, and can track your workout and the number of calories you burn. Below are new exercise equipment to help you achieve maximum results.
This equipment offers unsurpassed cardio experience because it is designed for intensive exercises and heavy use in fitness facilities. It possesses the following features:
Touchpoints that are ergonomically refined, like smart workout controls, sealed buttons, seats, and handlebars that make hard, long workouts intuitive, comfortable, and convenient.
There is a lineup of commercial cardio platforms that are of premium quality like ClimbMill, Suspension Elliptical, two Treadmills, Upright Cycle, Ascent Trainer, Hybrid Cycle, Recumbent Cycle, and a Lower Body Ascent Trainer.
Unsurpassed durability. The performance series rugged components can endure intense workouts for decades because they have to meet high international standards.
The performance series has up to date features like modular design and easy-to-access components that simplify service to maximize members' satisfaction and minimize downtime.
The new innovative design of this equipment marks a groundbreaking move in the stair-climbing technology. Its design provides an extreme climbing exercise by simulating to push or carry a load up the stairs through the OverDrive Training Mode feature. All improvements made on the 10G focus on providing the greatest climbing experience. Some of its features include:
Low step-up height, deep and wide stepping surfaces, a new drive train for quiet and smooth performance, and ergonomic handrails to enable many climbing positions.
Standard and the Landmark Challenge console programs.
The Drive chain, generator, and brakes are controlled electronically to regulate the stair speed.
Contact HR and Telemetry.
New OpenHub Versions like LCD, 15" and 10" to choose from the family of consoles.
Personal cooling fans to create a rewarding exercise.
Multiple accessory and bottle holders.
The 22 SERIES COACHBIKETM has to be the best piece of home fitness cardio equipment of all time. It gives you an intense cycling experience and keeps you engaged. What's more, you get to work out in the comfort of your room as you explore the world. It provides access to professional fitness coaches worldwide, like celebrities, professional cyclists, Olympic champions, and location guides that act as your iFit coaches and therapists. With time you will find your favorite trainer through their personalities and training styles that keep you motivated and inspired. Other features include:
Google maps to enable you to cycle anywhere in the world.
Technology that is automatically adjusted by your coach to change your bike resistance, incline, and decline of your bike to show on the screen, keeping you engaged.
A variety of complete workouts with different level challenges.
Maximum performance aided by double-sided pedals that accommodate both traditional fitness footwear and high-performance SPD cleats.
Hundreds of handlebar and seat configurations readily available to customize your ride.
A high-definition display to engage you with amazing imagery in exotic locations.
Bottom Line
Regular exercise is necessary to keep you fit and healthy. With the right equipment, you can achieve maximum results. Manufacturers are continually innovating new equipment to suit our needs. The MATRIX Performance Series, CORE HEALTH & FITNESS StairMaster 10G, and FREEMOTION 22 SERIES COACHBIKETM are some of the new pieces of exercise equipment you should check out.