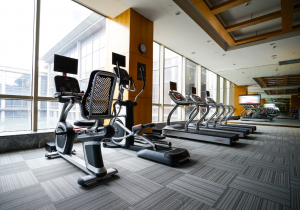 Planning a multifamily fitness facility used to be complex, and since 2020 it has gotten even more difficult. Consumers have changed their behavior, shipping companies are frequently delayed, and manufacturers are experience delays and pricing changes of their own. To navigate this new normal, here are some important considerations you should add to your planning list.
1. Consumers switched to home gyms in 2020
When the coronavirus pandemic shut everything down in 2020, many consumers invested in and created their own home gyms. "As soon as the lockdowns took effect, the home-fitness business took off like wildfire," said Matt Powell, vice president and senior industry adviser for the NPD Group as reported by the Washington Post. As of January 2021, demand for home exercise and outdoor equipment continued to be off the charts in numbers reported by multiple industry retailers like REI.
To create a multifamily fitness facility, you'll need to offer something they don't have at home.
2. The pandemic isn't over yet
While we've come a long way, the pandemic isn't over yet and consumers are still wary about exercising in group environments. As the highly contagious delta-variant surges, gym owners are preparing for potential new mandates as well as voluntary safety measures. When it comes to new equipment expect consumers to demand more spacing and ventilation, which can mean fewer overall machines.
But the pandemic has affected more than just that — it's affected the supply chain.
3. Exercise equipment is back-ordered and delayed
Even if you're customer base has stayed relatively stable for your multi-family gym, you probably won't be getting new equipment in any hurry — or need replacement parts and service either. Between the surging consumer demand for products, the custom nature of many commercial equipment sales, and the general supply chain disruptions associated with shutdowns, limited capacities, and more, you simply won't get new equipment any time soon.
If you're planning a grand opening, you'll want to hold off on announcing the date until your product arrives. as many retailers describe, "Shipping delays are here to stay at least throughout the summer and possibly into the holidays as well."
4. Equipment costs are skyrocketing
Because equipment has become so hard to get, costs for fitness equipment are skyrocketing. Demand is up, supply is down and to add to that the costs for both the raw materials and the fuel to transport and manufacture these items have gone "through the roof" too. Hot-rolled sheet steel, a component used in many different fitness items demonstrates this point. In 2007 you could purchase the raw goods for $400 per metric but in the summer of 2021, that same supply cost $1,154 per metric ton.
Consider the price of equipment before launching your multifamily fitness facility.
5. Find new ways to attract participants
Having facilities for members to workout onsite is important, but new audiences are demanded expanded offerings to justify the cost of membership. You'll want to make sure you have equipment such as high-quality audio-video to create workout videos by your personal trainers and a strong internet connection to connect via video conference.
You'll want to experiment with new technologies such as interactive apps or even virtual reality workouts to stay competitive.
Creating a multifamily fitness facility has changed, remember these changes when creating your own plan.
For more information on designing fitness facilities for multi-housing, please contact a Fit Supply representative at sales@fitsupply.com