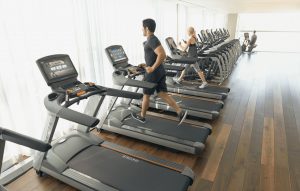 Commercial treadmills are the right choice for any Texas gym or fitness center. They have the durability to handle that kind of traffic and safety features that reduce liability. What about brands, though? What are some of the top commercial treadmill brands and why do they stand out?
Matrix Fitness
Matrix is one of the world's premier brands. They have redesigned the commercial treadmill making it innovative and solution-oriented. They also offer state-of-the-art technology with their FitTouch brand.
FitTouch is intuitive and has all the bells and whistles Lone Star state gym-goers have come to expect including wifi, access to social media and the integrated Matrix Asset Management system for a personalized sign-on. Their Ultimate Desk System means better performance and enhanced durability.
Star Trac/Core Health & Fitness
Core Health & Fitness offers nothing but the top brands including Star Trac. Star Trac commercial treadmills have some of the most solid foundations around along with impressive features like Quick Key controls, Hot Bar controls and design elements that enhance the user experience.
The Star Trac 4-Series cardi line is the right choice for the Texas hospitality and multi-housing markets. It features full-color displays, quick select keys and the optional viewing screen. It is a smaller unit that works like a full-sized commercial treadmill.
Spirit Fitness
Spirit has been providing top-of-the-line commercial treadmills for more than three decades. Back in 1983  when they produced their first product, they wanted to give customers quality equipment that helped them reach their fitness goals.
Today, Spirit Fitness is still on the same mission. The Spirit commercial treadmills incorporate state-of-the-art technology with solid designs. Some common features found on a Spirit treadmill include touchscreen 15.6 entertainment displays for TV web browsing and music streaming. They also serve as the user-friendly interface.
Different models have different features, too. For example, the Spirit CT800 treadmill comes with a Tri-color LED console, dual drive motor cooling fans and quick speed and incline keys. The XT685 tacks on an anatomical figure that shows which muscles are working.
Texas is a demanding state and Fit Supply meets those demands with the best commercial treadmill brands on the market.