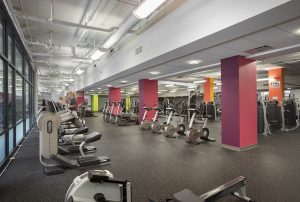 Sports and fitness flooring is becoming something that people expect to see in gyms now. You wouldn't put shag carpeting or marble in your gym, because they just don't make sense. Here are the reasons why so many people love sports and fitness flooring and why it just makes so much more sense for your gym.
Safety
First thing on most business owners list is safety. You don't need a customer slipping on a brand new marble floor and breaking something. Sports and fitness flooring is constructed out of rubber, much of it is actually produced from recycled rubber.
Rubber flooring provides padding that linoleum, tile, cement, or industrial carpeting will not. This prevents injuries due to falling, as well as impact. Students, team members, and the customer will be less likely to end up with minor injuries such as sprains after you install rubber flooring.
Noise
Noise, noise, noise, as the Grinch said; have you ever noticed that since the advent of sports and fitness flooring gyms and fitness centers have become much quieter? The rubber material that sports and fitness flooring is made from not only acts as a shock absorber, but it also absorbs sound.
Having a quieter gym will allow people or groups to focus better on their activities at hand. It will enable you to use temporary walls to create differences in ambiance between spaces meant for differing types of exercise.
Overall Versatility
Rubber flooring will stand up to a lot more torture than traditional industrial carpet or linoleum.
It can stand up to having heavy weights dropped on it.
It will not absorb sweat.
It does not need to be waxed, polished, or shampooed.
It can inexpensively be a rainbow of colors.
There are many textures available.
There is padding that can be used underneath for areas that need it.
Rubber flooring can be molded to fit any shape.
It will stand up to chemicals.
It helps to give athletes that extra bounce in their step.
Hands down, sports and fitness flooring win over that shag rug, when it comes to floor choices for your gym. Ok, you are not really going to choose a shag rug, but ecore Athletic carries the full gamut of sports and fitness flooring. Indoor, outdoor, fully poured pieces, padding, visit the ecore site or give us a call today at (866)795-3732 to see how we can help you make your gym that much better.