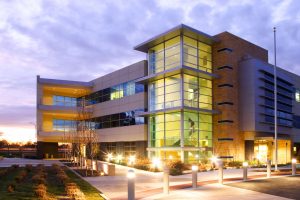 The days of the traditional office building are fading away as tenants are looking for more. The amenity war may have gotten its start in the residential apartment industry but it's spreading to other sectors of real estate like commercial office space.
The Growing Amenities Trend
Michael Schear, an executive with Camber Creek points out that trends in commercial office space are following the same path as multifamily properties. Commercial buildings are looking to stand out to potential tenants and that means adding perks beyond just a sundry store or newspaper shop on the first floor. According to Schear, commercial buildings are expanding their amenities to include things like:
Apps for tenants
Pop up massages
Car cleaning
Nap rooms
Treadmill desks
Coworking spaces go a step further with free beer and specialty coffee, even in-house chefs.
Why Amenities Matter to Real Estate Companies
Bryan White, JLL's managing director, says companies that rent office space no longer consider cost-savings as the ultimate selling point. They are looking for an office community that will make their workforce happy with added touches such as a podcast room, a visiting brewery, and a mother's room. Adding posh amenities like an in-house fitness center improves employee productivity and is beneficial as they try to recruit top talent.
Amenities are a Make or Break Prospect
Cities are revamping old office buildings to make them relevant again and adding new ones that are upscale — all based on what they can offer. For example, The Shuman in Chicago uses the tag line: "Inspired by you, Built for you"
That's not just marketing, though. The architect Roger Heerema designed it with amenities that make it more homey, luxurious and loaded with curb appeal.
The building has an engaging entrance that includes a five-story atrium and a dedicated amenity floor. Tenants have access to a fitness club with state-of-the-art equipment, training rooms, lockers, and showers.
The Shuman features an upscale food and beverage area that rotates chefs from some of Chicago's finest restaurants, a 24-hour Grab'n'Go, no cash required and a barista bar. It has a gaming room with old school fun like foosball and a seperate golf simulator.
Change in design direction isn't limited to high-rises like The Shuman, though. Even smaller office buildings are adding competitive features like rooftop bars, full gyms, and bowling lanes. Amenity wars are reshaping multifamily communities in a good way but it doesn't stop there. Look for an amenity arms race in commercial office space, too.