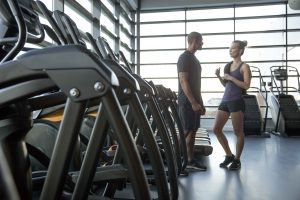 Are you in search of fitness equipment that is reliable, user-friendly, and comes with the best warranties in the industry? Look no further! We have the best fitness equipment from some of the biggest names in the fitness industry. These brands are visible in health clubs, colleges, universities, multi-housing fitness centers, recreation departments and many other fitness facilities. Let's take a closer look at what makes our selection so special.
The Best Brands
We carry only the most trusted brands such as Matrix, Nautilus, Star Trac, Schwinn, Freemotion and more. Each brand has been carefully selected to ensure that it meets all safety standards while providing users with an exceptional workout experience. Whether you are searching for treadmills or ellipticals, weight benches or stationary bikes—or any other type of exercise machine—you can be sure that each product is built to last.
Our selection also includes functional training solutions such as kettlebells and medicine balls so that you can offer your members a variety of ways to get fit. All these products come with detailed instructions on how to use them safely and effectively.
Exceptional Warranties
At our company, we understand how important it is to have peace of mind when investing in new equipment for your facility. That's why we offer extended warranties on every product we sell. Our warranties cover parts as well as labor costs for an agreed period of time after purchase so you can rest assured knowing that your investment is protected should anything go wrong down the line.
So there you have it! Our selection of fitness equipment offers something for everyone—from beginners to experts—and provides all users with an exceptional workout experience backed by excellent warranties. With these products, you can be sure that your members will stay safe while they work out and achieve their desired goals quickly and easily! Contact us today to find out more about our selection!